Expert Forecasts on Mortgage Rates
If you've been thinking of buying a home, you may have been watching what's happened with mortgage rates over the past year. It's true they've risen dramatically, but where will they go from here, especially as the market continues to slow?
As you think about your homeownership goals and decide if now's the time to make your move, the best place to turn to for that information is the professionals. Here's a summary of the latest mortgage rate forecasts from housing market experts.
Experts Project Mortgage Rates Will Stabilize
While mortgage rates continue to fluctuate due to ongoing inflationary pressures and economic uncertainty, experts project they'll start to stabilize in the months ahead. According to the latest projections, mortgage rates are expected to hover in the low to mid 5% range initially, and then potentially dip into the high 4% range by later next year (see chart below):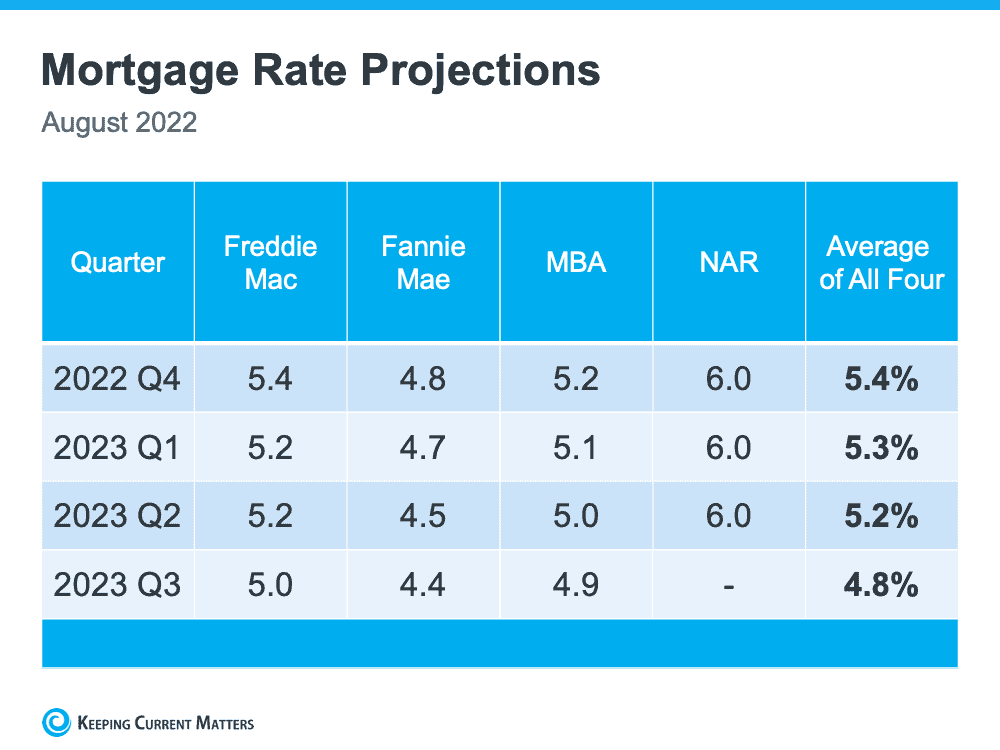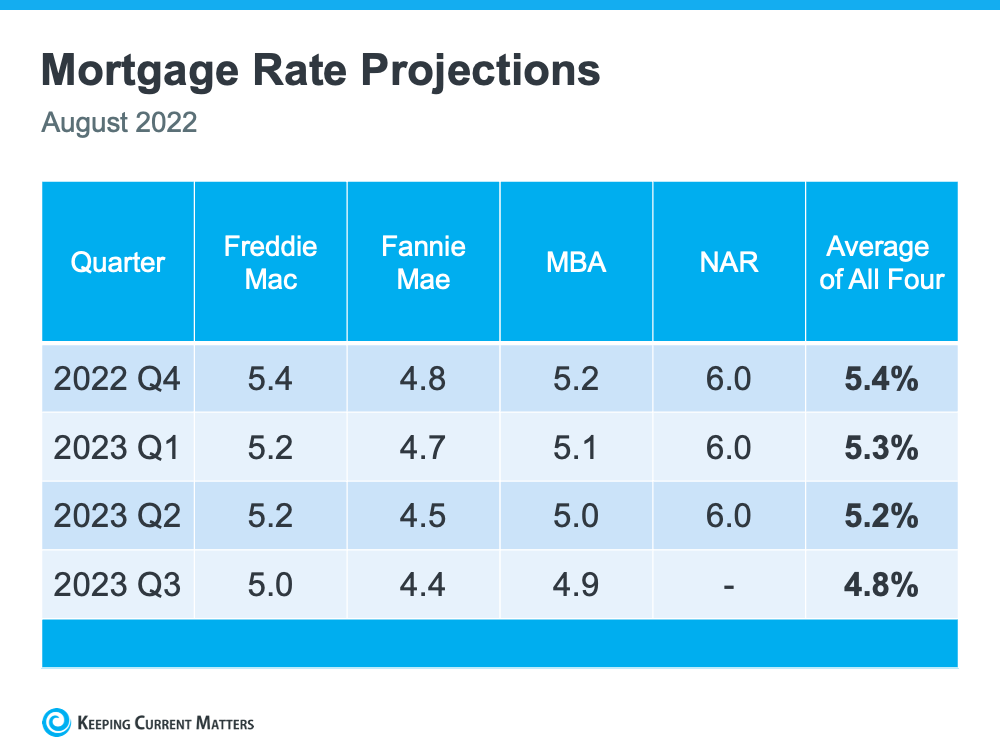 That could bring you some welcome relief. So far this year, mortgage rates have climbed over 2% due to the Federal Reserve's response to inflation, and that's made it more expensive to buy a home. And wondering if the rise in rates will continue is keeping some prospective buyers on the sidelines.
But now that experts say mortgage rates should stabilize, this gives you a bit more certainty about what they think the future holds, and that may help you feel more confident about your decision to buy a home.
Bottom Line
Whether you're looking to buy your first home, move up to a larger home, or even downsize, you need to know what's happening in the housing market so you can make the most informed decision possible. Reach out to a trusted real estate professional to discuss your goals and determine the best plan for your move.
Selling Your Home?
Get your home's value - our custom reports include accurate and up to date information.
Get Home Value
Meet Kayleigh Sellars
Born and raised in Columbia SC, I graduated from The University of South Carolina in 2014. Soon after graduating I started my banking career with a credit union. I was able to work my way up and by 2018 managed two markets.
I transitioned to a branch manager role at a large bank and redirected my focus to business and mortgage lending. I was able to see the positive financial impact a home refinance could make for a client and loved walking them through the process. Financial literacy and breaking the process down for my clients are things I'm passionate about.
My free time is spent hanging with my husband, Richard, and our Sheepadoodle, Tucker. Recently my Dad shared a story with me about when I was little and would want to play "mortgage lady". Here we are now and I'm a mortgage lady! (I promise I wasn't a weird kid).
803.665.5788